This article on Thailand's best real estate projects appeared in the most recent issue of Dot Property Magazine. Click here to read it!
Thailand's best real estate projects are a diverse bunch. Throughout the country, developments are innovating and elevating the property market. These come in various shapes and sizes with everything from massive mixed-use developments to boutique villa estates contributing to growth.
The project winners at the Dot Property Thailand Awards 2021 are all helping drive the real estate market to new heights in their own unique ways.
Thailand's best real estate projects in 2021
Best Luxury Housing Development
Grand Bangkok Boulevard East Rama 9
Best New Launch Villa Development
Bangkok Boulevard Donmueang – Chaengwatthana
This year saw SC Asset collect two awards in the project categories with its industry leading housing developments taking center stage. The amazing Grand Bangkok Boulevard East Rama 9 won Best Luxury Housing Development while Bangkok Boulevard Donmueang – Chaengwatthana was presented with Best New Launch Villa Development.
The two awards are proof of SC Asset's commitment to being Thailand's number one housing development brand. It continues to launch high quality projects equipped with modern living solutions that suit the needs of homeowners.
An example of this is the housing design at Bangkok Boulevard Donmueang – Chaengwatthana that features larger spaces and energy saving innovations. Additionally, a fully-fitted co-working center at the project ensures residents are able to work from home in comfort.
Best Luxury Condominium Bangkok
Tait Sathorn 12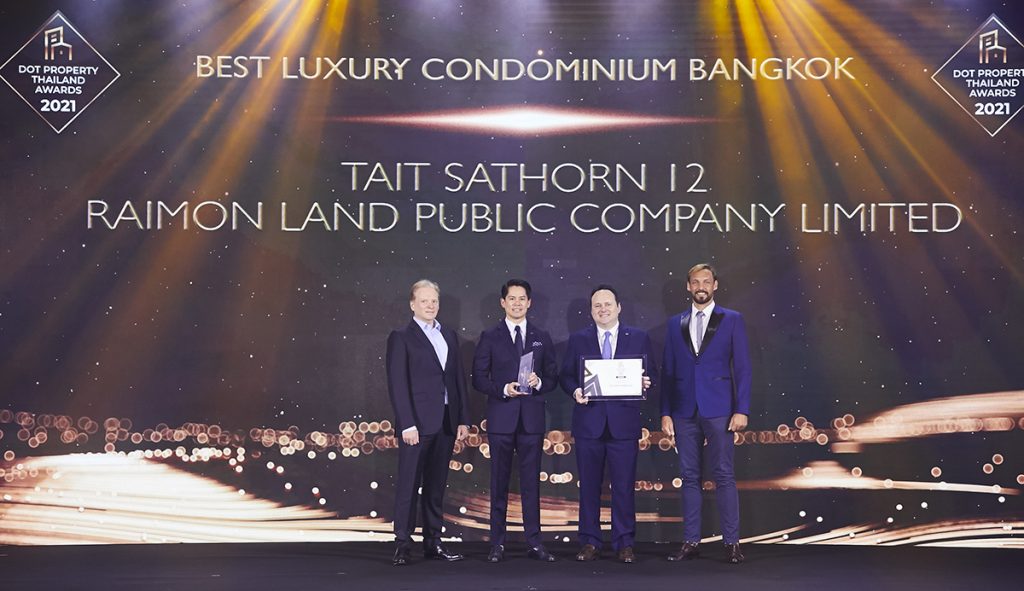 For the second consecutive year, a Raimon Land project won Best Luxury Condominium. Last year, it was The Estelle. This year, the impressive Tait 12 was recognized. Located in the heart of Sathorn, this 40-storey condominium boasts an elegant exterior design with large glass panels.
Inside, six-storeys of amenities have been placed on the upper levels of the project. These cater to the needs of modern residents who require spaces for working and entertaining guests in addition to more traditional facilities.
Watch: Tait 12 takes residential luxury in Bangkok to new heights
Best Luxury Condominium Eastern Seaboard
Arom Wongmat
Arom Wongmat from Colours Development is the new benchmark of luxury living along the Eastern Seaboard. The condominium has reimagined the residential experience serving as a masterpiece fitting of Pattaya's most prestigious address.
With preferences in this part of Thailand evolving, luxury residences are more popular now than ever before. Arom Wongmat is helping meet this growing demand. The collection of luxurious beachfront residences provides a bespoke experience tailored to those with discerning tastes.
Best Boutique Housing Development / Eastern Seaboard
The Plantation Estates
The Plantation Estates is an exclusive housing community featuring high-quality construction and modern designs. This creates the tropical lifestyle people love about Thailand's Eastern Seaboard in a peaceful, low-density environment.
One of the most unique aspects of The Plantation Estates is the flexibility given to homeowners. In order to fulfill its mission to be a boutique development, developer Base Real Estate provides assistance with furniture and interior design elements to ensure a  one-of-a-kind residence.
Related: The Plantation Estates brings boutique housing to the Eastern Seaboard
Best Villa Architectural Design Koh Samui
Santi Pura Villas
Santi Pura Villas features design from the legendary architect Bodin Sritrakul. Featuring his trademark Moon Shadow styling, the luxury villas are works of art. Each residence was laid out to not only maximize sea views but to also provide spacious, comfortable living areas that offer unmatched tranquility.
The developer behind Santi Pura Villas, LDR Group, was named Best Boutique Developer Koh Samui at the Dot Property Thailand Awards 2021.
Keep Reading: Santi Pura Villas offers award-winning design and a boutique approach in Samui
Best Urban Lifestyle Development Phuket
Best Luxury Townhome Phuket
The Residence
Best New Launch Villa Phuket
The Victory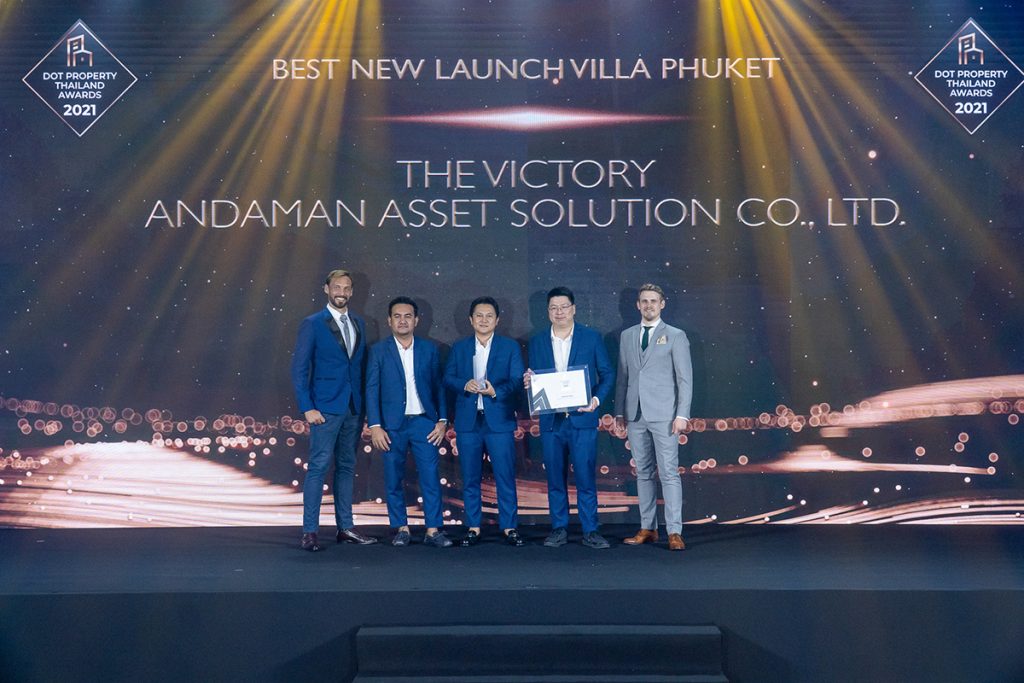 Developer Andaman Asset Solution took home a trio of project awards, including Best Luxury Townhome Phuket and Best Urban Lifestyle Development Phuket for The Residence and Best New Launch Villa Phuket for The Victory. Each one of these honors shows the developer's understanding of Phuket and its willingness to help elevate the local real estate market.
The Residence provides homeowners with an unbeatable lifestyle without the drawbacks of urban living. Easy access to school, work and leisure guarantees convenience while a peaceful home and fulfilled family life are ensured through the exquisite smart design that offers timelessness and unrivaled comfort.
Andaman Asset Solution launched The Victory in 2021 looking to usher in the next wave of ultraluxury pool villas in Phuket. The project boats distinctive modern architecture, luxurious finishes and superior craftsmanship that must be seen to be believed.
Best Luxury Villa Development Phuket
Anchan Hills
Anchan Hills from Pearl Island Property is a regular at the Dot Property Awards having won in 2018, 2019 and 2020. The project continued to earn plaudits in 2021 with its latest honor being Best Luxury Villa Development Phuket.
Featuring a modern Balinese style, Anchan Hills has redefined luxury in Phuket. No expense has been spared to create a truly unique residence. Meanwhile, the architectural design inspires harmony between the internal and external spaces that embrace the island's tropical charm.
Best Affordable Housing Development Hua Hin
The Village from Boontani36
The Village from Boontani36 is set amidst the breathtaking landscape of Hua Hin's hillside which provides a tranquil backdrop for residents. The two hallmarks of The Village are comfort and convenience. An example of this is the fact several plot sizes and villa styles are available to choose from.
Additionally, modern technology can be found in the residences and common areas to ensure seamless daily living. All of this is provided at an affordable price point meaning people are able to enjoy a splendid home without breaking the bank.