More than 200 of real estate's best and brightest came to Bangkok for the Dot Property Southeast Asia Awards 2019 presentation ceremony. Nearly 50 awards were presented on the evening with winners hailing from Vietnam, the Philippines, Thailand, Malaysia, Indonesia and Singapore. Here is a look at those who took home awards.
New Nordic Group
Best Developer CSR – New Nordic Group
Best Innovative Developer – New Nordic Group
Best Innovative Investment Product – New Nordic Group
New Nordic Group has revolutionised property investment in global tourist destinations for 10 years now and the developer's work in Thailand has been truly innovative. The company's unique approach allows New Nordic Group to offer property investment that is less speculative and more transparent while tapping into Thailand's stable tourism market. The developer is also committed to giving back through its numerous CSR efforts.
The One Estate Development Company Limited
Best Boutique Developer – The One Estate Development Company Limited
Best Low Rise Resort Condominium – Carapace Huahin-Khaotao
Best Condotel Architectural Design – Carapace Huahin-Khaotao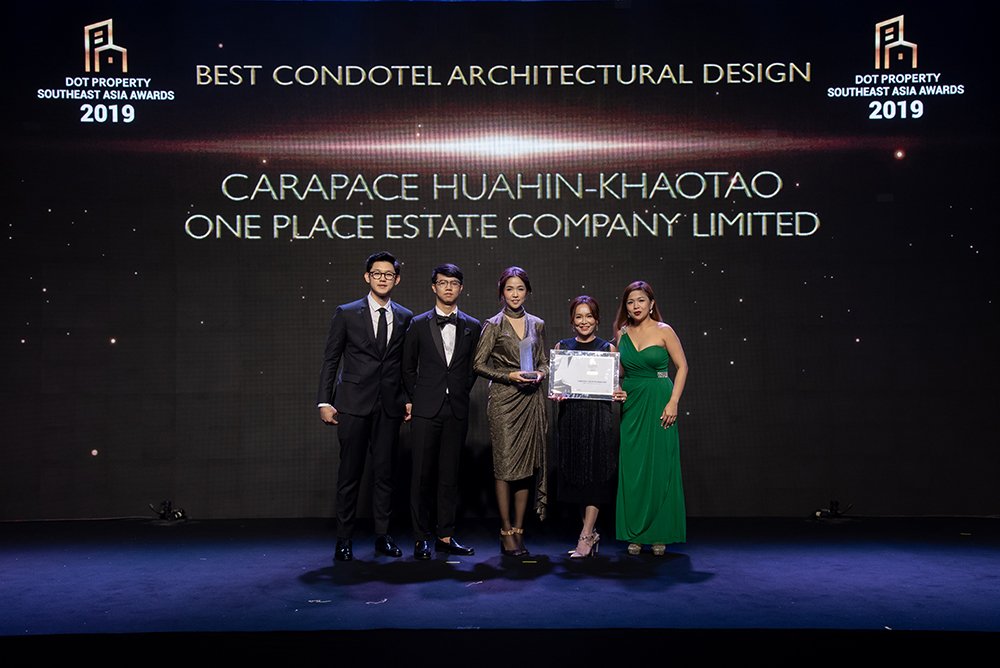 The One Estate Development Company Limited is committed to creating boutique developments that meet the needs of residents. This can be seen at one of its newest developments, Carapace Huahin-Khaotao. The project features both a low-rise hotel and condominium with both having direct access to the development's beach club. The result is a residential estate good for vacation stays or residential usage.
ARENA Cam Ranh
Best Hotel Architectural Design – ARENA Cam Ranh
The magnificent ARENA Cam Ranh is designed by Finko International Design Alliance who has created a true hotel masterpiece. Located in one of Vietnam's up-and-coming tourist destinations, ARENA Cam Ranh is already among the most talked about resorts in Southeast Asia due in no small part to the hotel architectural design.
Malibu Hoi An
Best Luxury Condotel Architectural Design
Best Beachfront Luxury Resort Villa Development
Malibu Hoi An from Vietnamese developer Bamboo Capital is a development that is luxurious and has a stunning design that is perfect for condotel investors. With units managed by the Radisson Hotel Group, Malibu Hoi An features architectural design and 5-star amenities that cater to high-end guests.
Whizdom The Forestias
The outstanding Whizdom The Forestias from Thai-developer MQDC is not only the biggest property development in Thailand, but the greenest as well. The approximately 636,800 square metre complex is centred around an actual forest with developer MQDC rescuing old trees from around Bangkok and giving them new life inside Whizdom The Forestias.
Grand Florida Beachfront Condo Resort Pattaya
Best Beachfront Condominium
Blue Sky Group picked a special place in Pattaya's Jomtien area for Grand Florida Beachfront Condo Resort Pattaya. It is a short-drive away from U-tapao International Airport and is also close to the express motorway that connects the region to Bangkok. The project itself has a unique Florida theme with a number of different unit types available.
PAX SKY
Best Serviced Office Provider
PAX SKY is a gamechanger when it comes to the serviced office scene in Southeast Asia. The company focuses on providing customers with an office address that is luxurious, convenient and optimal. PAX SKY's goal is to ensure its clients always feel like they belong.
Cam Lam Invest Company Limited
Best Lifestyle Developer
Best Beachfront Resort Development – Cam Ranh Bay Hotels and Resorts
Best Resort Architectural Design – Cam Ranh Bay Hotels and Resorts
The Dot Property Southeast Asia Awards 2019 was a huge night for Cam Lam Invest Company Limited with the developer taking home three awards including Best Lifestyle Developer. The firm's impressive Cam Ranh Bay Hotels and Resorts was one of only a handful of projects to win multiple awards at the event.
Gold Residences
Best Township Development
SM Development Corporation has worked tirelessly to equip Gold Residences with a seamless fusion of architecture and luxury. This has given the township a dynamic look unlike anything found in Metro Manila. The project's beautiful gold façade can be seen from those flying in and out of the nearby Ninoy Aquino International Airport.
Mantra Beach Condominium
Best Affordable Condominium
Mantra Beach Condominium is another development from Thailand-based Mae Phim Property that offers unmatched value for money. From superb amenities to well-designed units, buyers of a residence at Mantra Beach Condominium are guaranteed of receiving a great investment.
AE Charming Cua Tung Beach And Resort
Best Beachfront Township Development
Vietnam's central province of Quang Tri is slowly becoming a tourist hub and AE Charming Cua Tung Beach And Resort will help put the region on the map. Set to open in 2021, AE Corporation is developing a wide-ranging township that will be a hub of activity in Quang Tri.
Stella Mega City
Best Sustainable Development
Best Housing Development
Stella Mega City from developer Kita Group is an ambitious development featuring infrastructure and surrounding facilities designed to meet the needs of the modern resident. There are 5-star hotels, commercial centers, sports complexes and event centers with each of these incorporating sustainable technologies. Stella Mega City also features numerous housing types that have been developed to support families of all sizes.
Sunshine Group
Best Innovation and Technology
Vietnam's Sunshine Group has been committed to bringing the latest innovations and technologies to all of its projects. An example of this is Sunshine Diamond River, a development that has redefined what it means to be a green building. Several advancements have been incorporated into the development that ensures fresh air, cool spaces and a pleasant living experience.
Anchan Hills
Best Luxury Villa Development
Anchan Hillis is located in one of the most desirable locations on the island of Phuket in Thailand. Developer Pearl Island Properties use only high-end materials while also utilising luxurious architecture and interior design details. The goal of the developer is to ensure that every villa at Anchan Hills meets the requirements of even the most discerning buyer or investor.
Melia Phuket Karon Residences
Back by the European Melia hotel brand, Melia Phuket Karon Residences is redefining the resort residence experience in Phuket. From spectacular amenities to its very own beach club, and some amazing views, the resort has it all. What's more, Melia Phuket Karon Residences has a low-density design to ensure a pleasant experience without the crowding found in other tourist resorts.
Wynhdam Garden Irin Bangsaray Pattaya
Best Condotel Development
Best Condotel Interior Design
There are condotels and then there is Wynhdam Garden Irin Bangsaray Pattaya from Irin Property Co. Ltd. The property is in a great location and has a strong brand backing it, however, the project's design is where it really stands out. The interior design of each room focuses on modern luxury that caters to the unique needs of travellers. Each room at Wyndham Garden Irin Bangsaray Pattaya is also equipped with a Jacuzzi bathtub ensuring a peaceful space. When the property opens, it is sure to be popular with travellers from around the globe.
Nam Group
Breakthrough Developer
Best Innovative Complex Development – Thanh Long Bay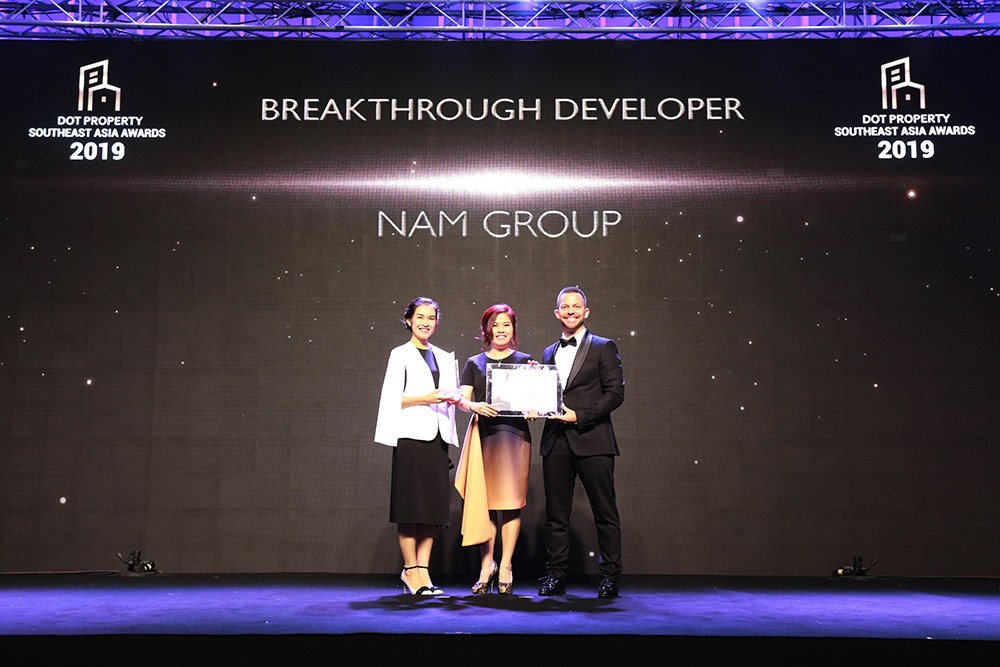 Vietnamese developer Nam Group has arrived on the scene with great developments such as Thanh Long Bay that bring something new to the market. The homebuilder uses local market insights to ensure its projects meet the real needs of the public. Nam Group must also be commended for its top-notch designs and sustainability efforts that can be found at its projects throughout Vietnam.
Amani Grand Citygate Davao
Best Mid Range Condominium Development
Cebu-based Grand Land looked to Davao for one of its first projects outside of its homebase. The developer launched the Amani Grand Citygate Davao and it is a project that has been well received by both residents and investors who can look forward to strong rental returns alongside capital appreciation in the years to come. Grand Land has used its deep understanding of the market to create a condominium that has helped elevate the standard of real estate in Davao.
BelHomes Hai Phong
Best Urban Lifestyle Development
BelHomes Hai Phong is being developed by VSIP Hai Phong who are delivering the project with high-class urban areas that will meet Singaporean standards. Residents can enjoy a relaxing lifestyle where they can indulge in a fresh living space, clear roads, harmonious green areas and unmatched convenience.
Jewel Changi Airport
Best Retail Development
Best Landmark Destination
Since opening in early 2019, Jewel Changi Airport has become a landmark destination that revolutionised both retail and airport experiences. The entertainment and retail complex from developer CapitaLand features wonderful nature experiences that have made Jewel Changi Airport one of the most Instagramable spots not just in Singapore, but the entire world. From its plethora of retail options to the ambiance that allows visitors to feel as if they have entered a different world, Jewel Changi Airport is a must visit destination.
Tun Razak Exchange
Best Integrated Development
Tun Razak Exchange is no ordinary development. The project aims to be Kuala Lumpur's new CBD as well as Malaysia's International Financial District with office space, residential buildings, parks, hospitality options and retail centres all integrated into a massive, 70-acre complex. The development's centrepiece just may be Exchange 106, a building that will become Southeast Asia's tallest tower once finished.
MNC Smart City
MNC Land envisions MNC Smart City as the "City of the Future". A place where Indonesia's growing, dynamic population can enjoy the convenience and comfort of a sophisticated urban living experience. Located on the outskirts of Jakarta, MNC Smart City is close to several of the city's under construction infrastructure projects that will ensure easy transportation for residents. The developer continues to craft the city's masterplan that will feature the latest in smart city infrastructure.
KL Eco City
Best Transit Oriented Development
KL Eco City from Malaysian developer SP Setia promises to be a world-class, city-within-a-city anchored by commercial offices, retail outlets, luxury residential towers and a hotel. Additionally, KL Eco City will act as an integrated rail hub that comprises the existing Abdullah Hukum LRT station along with the new KTM Komuter station. The transit oriented development also has several innovative pedestrian and road features designed to provide a seamless travel experience.
Congrats to all of Dot Property Southeast Asia Awards 2019 winners!